Connect The Dots Advertising
We have over 15 years of experience providing creative ideas for clients. Our team can help you find new & innovative ways to get your brand noticed! Let's brainstorm about your project! Check out our branded product search for ideas.
Featured Item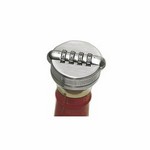 Solid Stainless Steel Combo Liquor/Wine ...
Perfect for securing premium wines and spirits. Locks up a bottle so that only the combination holder can reopen it. Instructions for using and changing the combo are included. 2 3/4" H x 2" Diameter
$15.10 - $18.49